In early 2020, the COVID Pandemic fundamentally changed how we worked and lived. It was the most significant societal change since World War II. Restaurants and retail struggled to find a safe way to meet the new demand for take-out and shopping from home. Frontline workers scrambled to keep our community safe in the ever-changing rules and regulations related to social distancing. For many people, the drive over 17 was no longer a daily grind and home offices became the place where we work.
West Cliff took on a new meaning in our lives during this turbulent time. It became our sanctuary, lunch break haven, a place to get away from our Zoom meetings and clear our heads. The lockdowns challenged our collective mental health, and it was the open space of West Cliff that saved us. Pedestrian counts skyrocketed as the City shut down parking lots.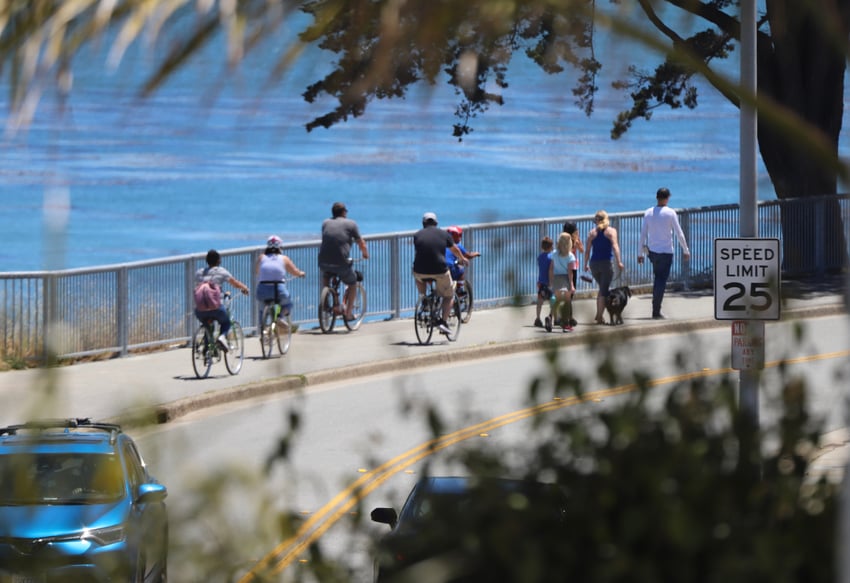 "Pedestrian, Bike and other forms of transportation skyrocket during the pandemic: Pic: Christine Hahn-Ramadan"
It was during this Pandemic time that some major initiatives emerged from the City and our community.
On October 13, 2020, The City of Santa Cruz Parks Master Plan 2030 was adopted by the Santa Cruz City Council.
The purpose of the Santa Cruz Parks Master Plan 2030 was to guide the City of Santa Cruz in parks, facilities, beaches, and open space planning on a long‐term basis. The document contains policies and actions for providing parks services and recommendations for improvements at specific parks.
Here is a link to the Parks Master Plan: https://www.cityofsantacruz.com/home/showpublisheddocument/82608/637443197322970000
The Plan included the West Cliff Recreational Area and the Master Plan called out:
"The City's Local Coastal Program has a planning item to develop a West Cliff Plan. The coastline is a recreational, natural, and scenic treasure that embodies the City's unique sense of place and identity. A master plan could be created to guide future improvements; help maintain a more cohesive, consistent identity; and improve the long-term coordination and management."
In 2021, The Santa Cruz World Surfing Reserve and the City of Santa Cruz Parks and Recreation Department signed a Memorandum of Understanding to work together to create the plan for the West Cliff recreational area, and this work is undergoing.
Professional surfer, Shaun Burns, is the coordinator of the Local Stewardship Committee for the Santa Cruz World Surfing Reserve. If you are interested in learning more or participating, please connect with Shaun. His email is shaun@savethewaves.org. More information at: https://www.savethewaves.org/santa-cruz/
On April 27, 2021, the West Cliff Drive Adaptation and Management Plan, a public works plan, was adopted by City Council.
West Cliff Drive Adaptation and Management Plan: https://www.cityofsantacruz.com/home/showpublisheddocument/83938/637552831003230000
"The purpose of this West Cliff Drive Adaptation and Management (Plan) is to develop a set of scientifically-informed, community-supported coastal management projects to be implemented in the 10 to 15-year time horizon to address coastal erosion and adopt them in a Public Works Plan format."
Later in 2021, the City released a draft Local Coastal Plan for public review: https://www.cityofsantacruz.com/home/showpublisheddocument/87200/637743953526470000
The Local Coastal Plan explains:
"This document consolidates the 1990-2005 LCP Land Use Plan, as approved by the Coastal Commission in 1994 and with all subsequent amendments, into one document. The policy sections have been reorganized to follow the Coastal Act policy topics and have been revised, where appropriate, to reflect current conditions and the General Plan 2030 and to delete outdated text and/or policies or programs that have been implemented or are no longer relevant."
The West Cliff Drive Adaptation and Management Plan the Local Coastal Program Amendment have been submitted to the California Coastal Commission.
THE ATMOSPHERIC RIVERS OF 2023
On January 6, 2023, a very unusual WSW swell (25ft@18sec from 255 deg) combined with a 6' high tide pummeled West Cliff fueled by one of a series of Atmospheric Rivers hitting the west coast of California.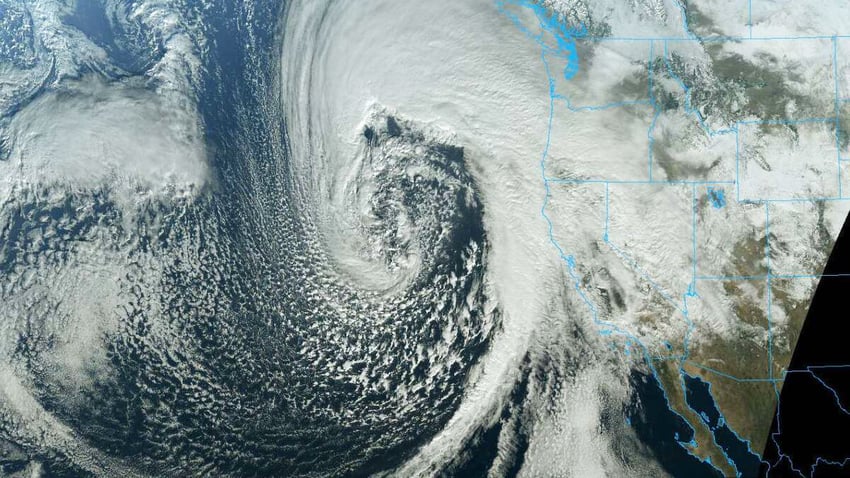 Image: San Francisco Chronicle
The resulting damage has been all over the local, national, and international news. Gary Griggs, renowned UCSC geologist and historian, said he had never seen so much damage in such a short period of time.
Save West Cliff was born a few days after this storm.
"It takes a catalytic event to get everyone to realize how much a place means to us. It's time for all of us to come together, talk about where we want to take West Cliff, and take action."
In addition to the 500 individual members, we have many partners in our mission to save West Cliff. Here is a link to the members who have signed up and our partners in the mission.
"The opportunity ahead is bigger than West Cliff Drive itself. It is about the ecosystem and history that surrounds the West Cliff Recreational Area. It is about preserving our coastline for future generations and becoming a model for other California communities. It is about the surf breaks, bike paths, walking trails, endangered species, and the sheer joy of the vantage point across one of the world's wonders" – Monterey Bay.
Get the latest from Avenue