Hello everyone, and welcome to our latest #savewestcliff update.
Welcome to our new members, and thanks to everyone for reaching out to friends and colleagues! We have 500 people who have joined our group. Please keep spreading the word; we want to get to 1,000 members.
On February 13, City management held a Zoom webinar and provided an update on emergency repairs, the West Cliff Drive Adaption Plan, and a future planning roadmap. Some of us met at the Seymour Center, and over 250 others joined by Zoom. Thanks for investing the time to hear from City management.
If you were unable to participate live, you can watch it HERE
CITY MANAGEMENT'S PRESENTATION
City Manager Matt Huffaker opened the webinar and explained that the West Cliff Roadmap, a cross-functional process, is underway. Assistant City Manager Laura Schmidt is the project manager for this effort, and the City has retained Michael McCormick from Farallon Strategies to lead the process.
Nathan Nguyen, Public Works Director, walked us through the emergency protection measures the City has taken to date. Nathan also explained the City's approach to funding from the Federal Emergency Management Agency (FEMA) for coastal armoring and local hazard mitigation programs, and the Federal Highway Agency (FHWA) for road and bridge repairs.
Dr. Tiffany Wise-West, Climate Action Manager, shared the history of the West Cliff Drive Management and Adaption plan, which started as far back as 1980. She also outlined the damage areas in Zone 2, explaining the four triggers had been activated during the recent storms.
The discussion will continue at the upcoming Public Works and Transportation Commission meeting, on February 27, at 6pm, and more community sessions will be planned over the next few months.
HISTORICAL CONTEXT
A number of people have been asking for details on the history and relevant documents relating to West Cliff. Thanks to many of our members we have compiled a series of blogs with some relevant history beginning 50 years ago in 1972 with John Scott.
Episode 1 // Over 50 Years in the Making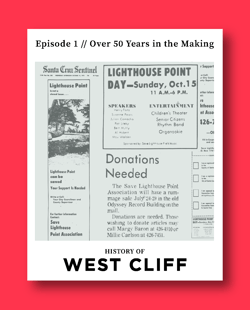 Episode 2 // The Indecisive Decades: 1980 – 2020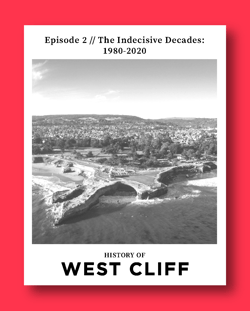 Episode 3 // Signs of Love for West Cliff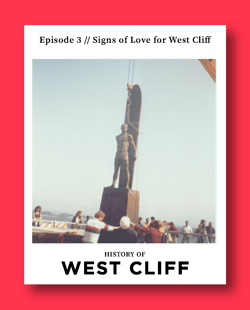 Episode 4 // The Pandemic Changes Everything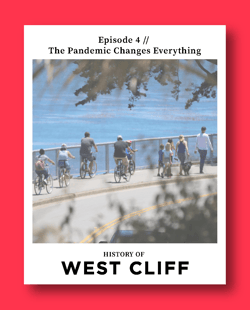 FINAL THOUGHTS
If the past 50 years of history has taught us anything, polarizing our community about tactics before the strategy is clear only leads to anxiety and delays in the long run. We understand that the natural knee-jerk reaction to some to these issues is to jump in straight away.
Our community must change the way we deal with change. Let's slow down and understand the whole before we react to any one piece.
As Nik Strong-Cvetich so eloquently put it, "What is likely to be the long-term status quo of West Cliff 50 years from now? Let's use that as a starting point rather than thinking, 'Oh, what does next year look like? And then what does the year after that look like?' Let's not myopically focus on what's next, instead let's focus on what could be."
Thank you,
Save West Cliff
#savewestcliff
email: info@savewestcliff.com
In case you missed it this week, we lost one of our local legends Harry Mayo. Here is a link to an article in the Sentinel:
Here's a quote sent to us by one of our new #savewestcliff members:
"Never doubt that a small group of thoughtful, committed citizens can change the world; indeed, it's the only thing that ever has" - Margaret Mead
Get the latest from Avenue