Hello everyone, and welcome to our latest #savewestcliff update. With another atmospheric river heading toward our community this week, we hope everyone stays safe out there! Storm preparation information can be found here:
March Storm Information (santacruzcounty.us)
CITY HALL
Save West Cliff was given 10 minutes to address the Santa Cruz City Council on Feb 28th. We thank Mayor Keeley for the opportunity to share our thoughts with Councilmembers and the general public. It was great seeing #savewestcliff members in the audience, and more were connected via Zoom. Thanks to everyone who participated in this meeting!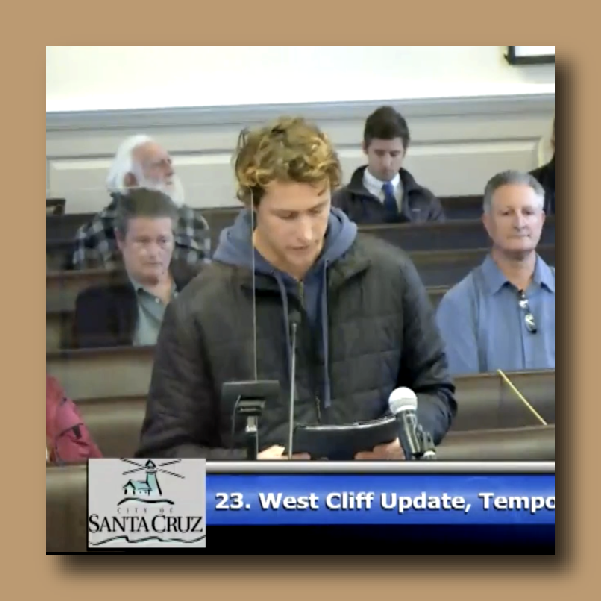 Here are some highlights from our Transcript:
"In the aftermath of the storm, Save West Cliff was founded, and it tapped into something our community was feeling.
West Cliff is more than a road with pipes under it. It is a living ecosystem with a rich history.
Our West Cliff Recreational Area is about parklands, surf breaks, bike paths, walking trails, access points, a scenic drive, beaches, kelp beds, seals, sea otters, and endangered species.
And the sheer joy of a vantage point across one of the world's wonders – MONTEREY BAY.
And yes, like Yosemite, it has a road through it."
You can watch the entire presentation by clicking the image below: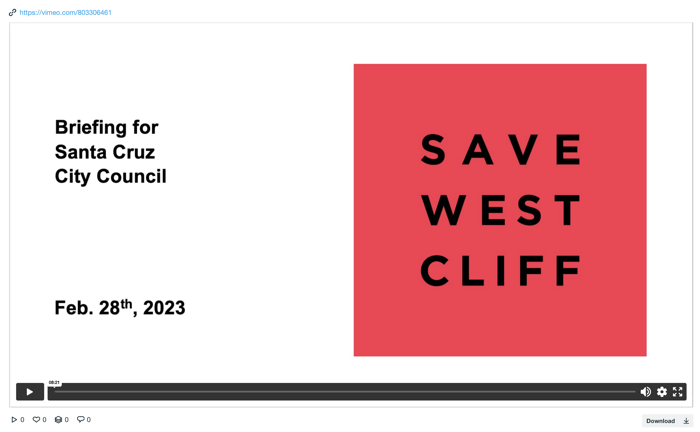 Laura Schmidt (Assistant City Manager) made the following comment during her presentation, as reported by the Santa Cruz Sentinel:
"One of the things that we're doing as an internal, city-wide team is approaching West Cliff holistically as one of our great city treasures," said Schmidt. "It's not a public works issue. It's not a climate issue. It's not a recreation issue. It is an asset and something that we want to make resilient and accessible to all."
We are encouraged to see this level of focus on a holistic, long-term plan for the West Cliff Recreation Area (WRCA) and the appointment of Michael McCormick from Farallon Strategies to help guide the process.
We will update you again as soon as we have any details on the next steps in the process.
One of the open items from the City's Feb 19 webinar was a FAQ. Here's the link:
https://www.cityofsantacruz.com/home/showpublisheddocument/92427
You can also sign up for City of Santa Cruz updates that specifically focus on West Cliff at this link:
https://lp.constantcontactpages.com/su/eIRsksc/WCD
SCYC MEETING
We were recently asked to brief members of the Santa Cruz Yacht Club on Save West Cliff and our mission. We spent a couple of hours outlining our mission, goals and progress to date. The Q&A session was lively, and we enjoyed meeting people in person.
It got us thinking about doing more of these kinds of events. So we would like your option, what do you think? Click on the survey below.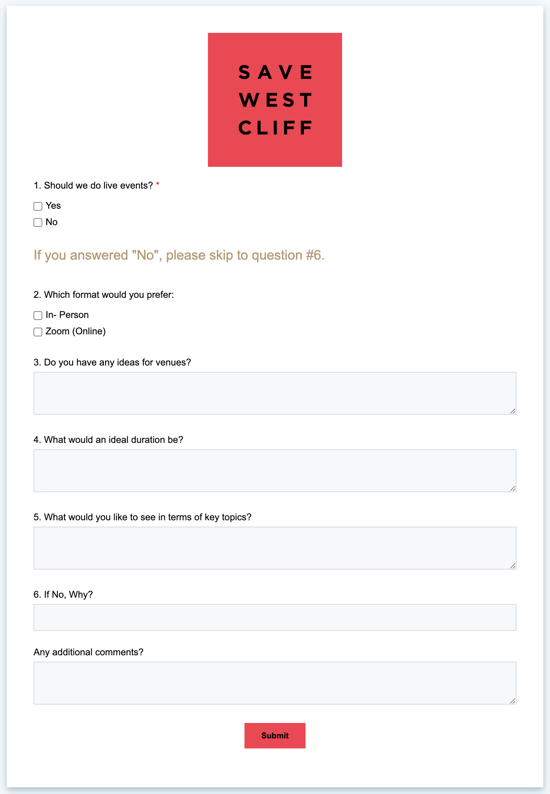 THE GRIGGS FILES
One of our most famous members at Save West Cliff is Gary Griggs. He is Distinguished Professor of Earth and Planetary Sciences University of California, Santa Cruz and he has been teaching and writing about the Californian Coastline and Santa Cruz for decades.
Gary has been sharing his insights and relevant articles with the Save West Cliff Committee as we seek to understand the challenge ahead and potential solutions. We thought you might also benefit from his knowledge.
Here is a link to his blog.
YOUR FEEDBACK
Here are some comments from members who recently joined us:
"You guys are great. Wish there was a way for more folks in the community to find out about your org. Hopefully a scope, proposal and solution will be created and embraced that encompasses the coast from the wharf till 4 Mile beach (or at least till Natural Bridges State Park) but hiking/biking to 4 mile is pretty special and seems to have some of the same risks." - Scott
"Walking and watching the waves I used to surf." - Mark
"Running, Walking, Biking and Surfing" - Jason
"Walking, Biking and sailing" - Robert
"Walking, bicycle riding, ocean viewing" - Vance
"Is dynamic revetment being considered/studied?" https://www.hcn.org/issues/55.2/north-coast-this-washington-experiment-could-rebuild-eroding-coastlines - Anastatia
Thank you,
Save West Cliff
#savewestcliff
email: info@savewestcliff.com
Finally, a sketch of our beloved West Cliff from Martha: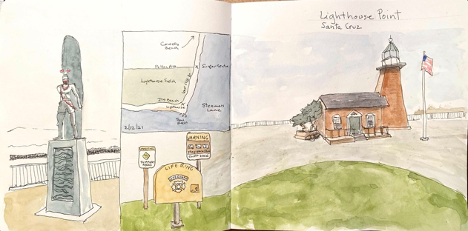 Get the latest from Avenue