Hello everyone, and welcome to our latest #savewestcliff update.
Welcome to our newest members, and thanks to everyone for reaching out to friends and colleagues!
NEXT CITY MEETING
The next West Cliff community meeting will be a Zoom Webinar on March 30, at 5:30 PM.
The invitation is available on Facebook at:
Here is a link to join the webinar:
https://us06web.zoom.us/j/86547648841?pwd=Q1lDNXJVTURZMzg0VnM2ZlpaaVBTdz09
Passcode: 871330
CITY PROCESS: WEST CLIFF ROADMAP
As outlined by Laura Schmidt at a recent City Council meeting, the city staff are focused on the following:
Ratification of emergency protective measures.

Identification and implementation of emergency repair and recovery work resulting from storm damage.

Refinement of existing plans into an updated integrated West Cliff Resiliency and Access Roadmap.

Plan for key regulatory and funding steps for the roadmap.
Items 3 and 4 have been conjoined, and a proposed West Cliff Roadmap will be shared at City Council in the spring of 2023, probably around mid-May.
This is going to be an important milestone. The process to get to the roadmap is as follows: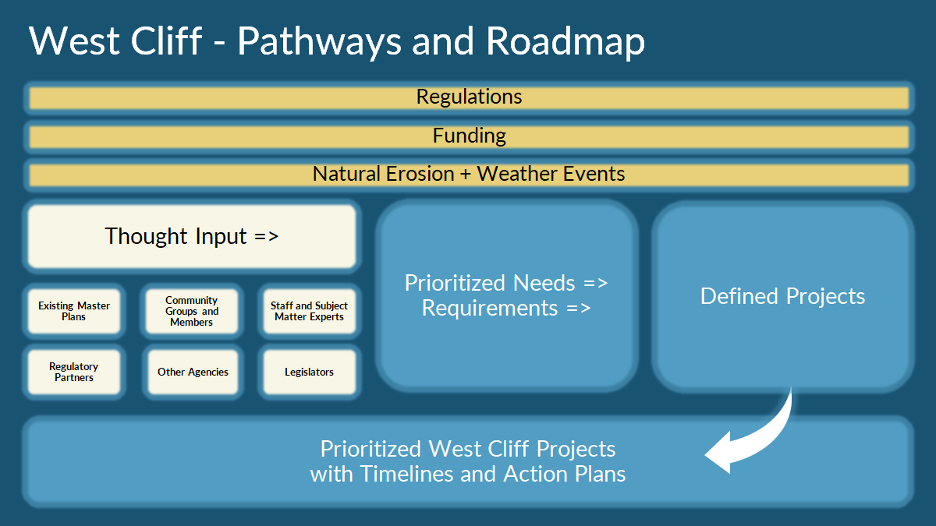 Please join the City webinar on March 30 to hear more about progress on this critical topic.
As the 14th Atmospheric River of the season approaches us here in Santa Cruz, we thought it appropriate to reevaluate and discuss the true existential risk to West Cliff.
JANUARY 5, 2023 STORM
As many of you know, damage to West Cliff happened on January 5, 2023. It was one of the largest swells in recorded history, peaking at 26.8ft @ 16 seconds. It was a West swell; its peak coincided with an unusually high tide of 7.01ft at 10AM allowing the waves to reach further up the cliffs and across the road.
Here's how the January 5 storm played out: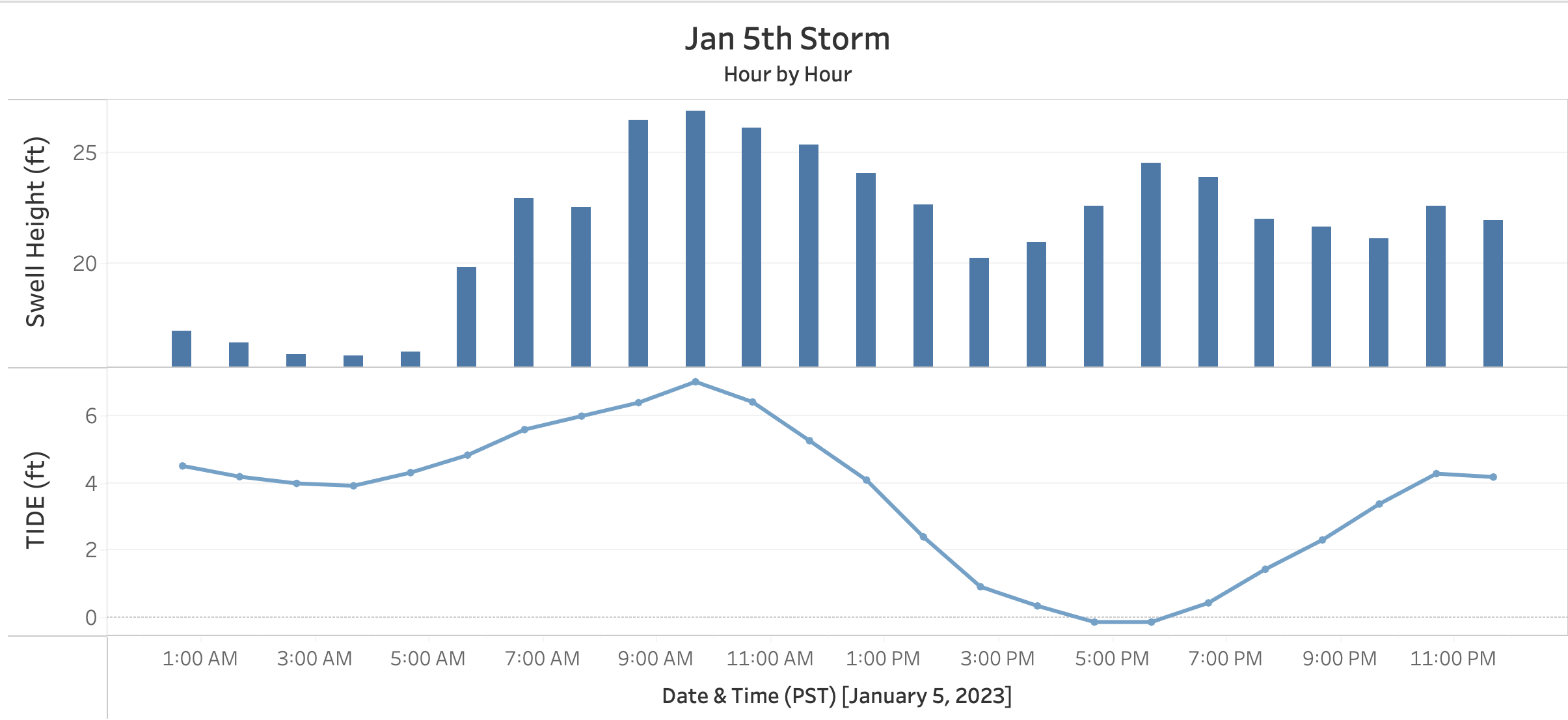 Note: Peak Swell Heigh occurred at the same time as high tide.
WEST SWELLS
NOAA began deploying ocean buoys to measure sea state more than 40 years ago. These buoys measure swells created by storms in the North and South Pacific Ocean. Since 1980 there have been 463 ocean swells measuring 12 feet or more at Station ST83071 according to the WIS Data Portal: https://wisportal.erdc.dren.mil/#
The top 10 swells from 1980 to 2020 were: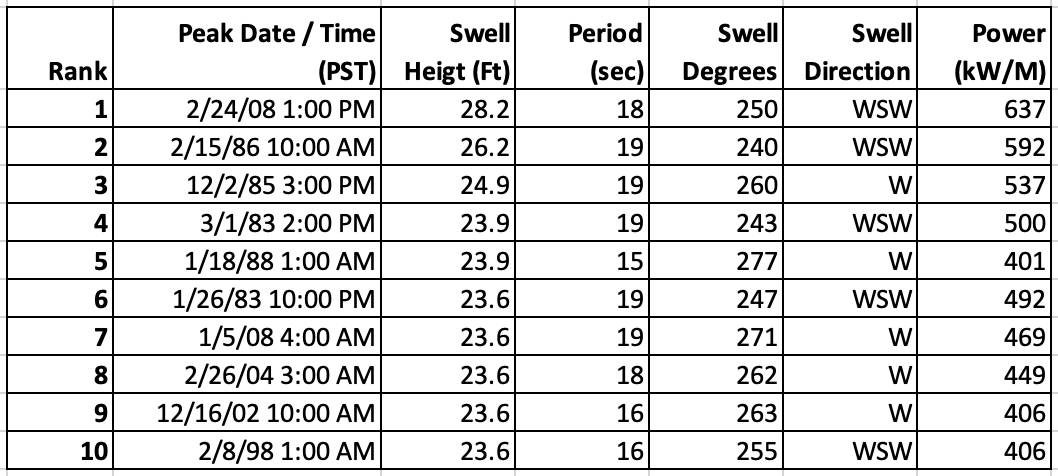 Note: All 10 of these swells were from the West or WSW.
Gary Griggs (UCSC) and Curt Storlazzi (USGS) have studied these storms for decades. They wrote a paper identifying the most damaging storms to the Santa Cruz area. Almost all of them were "West Storms."
You can read the paper in the Griggs Files (Article #3)
https://savewestcliff.com/blog/the-griggs-files
For reasons we don't fully understand, these swells focus their energy on the area between Lighthouse Point and Mitchell's Cove. This "focusing" is likely related to the bathymetry of the ocean floor in this region.
Eerily, a few months before January 5 storm, the New York Times published a special report titled "The Coming California Megastorm"
https://www.nytimes.com/interactive/2022/08/12/climate/california-rain-storm.html
This report explained that we should expect more of these powerful Atmospheric River-based bomb cyclones in the future.
Knowing these West Storms combined with rising sea levels are an existential threat, many are asking whether we can we protect West Cliff over the next 50 to 100 years.
This question along with other key topics will be discussed in an upcoming in-person/zoom meeting we are planning. Stay tuned for further details.
FINAL THOUGHTS
Our hearts go out to all those impacted by flooding in Pajaro and throughout our community. If you are interested in volunteering, please sign up here: Volunteer Center of Santa Cruz County | Flood Response (scvolunteernow.org), and you can donate funds here: Community Foundation of Santa Cruz Disaster Fund.
Thank you!
Save West Cliff
#savewestcliff
Get the latest from Avenue